Filter by Category
Spring Fling for Adults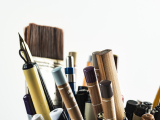 Adult Pen and Ink
with Leslie Sconce

Mar 28, 2023 at 5 pm
What is ink pen art?Pen and ink art is the process of using pens to apply ink to a surface. It has been popular with artists for many years, originating in ancient cultures. One of the earliest surviving pen and ink drawings is The Abduction of Briseis, drawn by an unknown Greek artist using pen and dye on papyrus around 300 BC.
Upcycle Book Binding
with Lily Siu

Apr 5, 2023 at 5 pm
If you like collage, glue books, or art journaling you'll find this class to be a fantastic visually creative form of art and expression.